GUARD OZOZLER leather exports its creative designs to all over the World
"Our biggest advantage is that brands generally prefer us because we can do all the accessories except shoes and clothing. We have customers with whom we have been producing for 40 years. We have domestic and foreign customers with whom we have been working for 40 years. We produce many brands. From suits to sportswear, from women's clothing to men's clothing, we also manufacture many well-known brands."
Mr. Mehmet Akın İskender, first of all we would like to get to know you?
I have been the marketing manager of GUARD-OZOZLER leather for 9 years. I am 43 years old. I am married and have a child.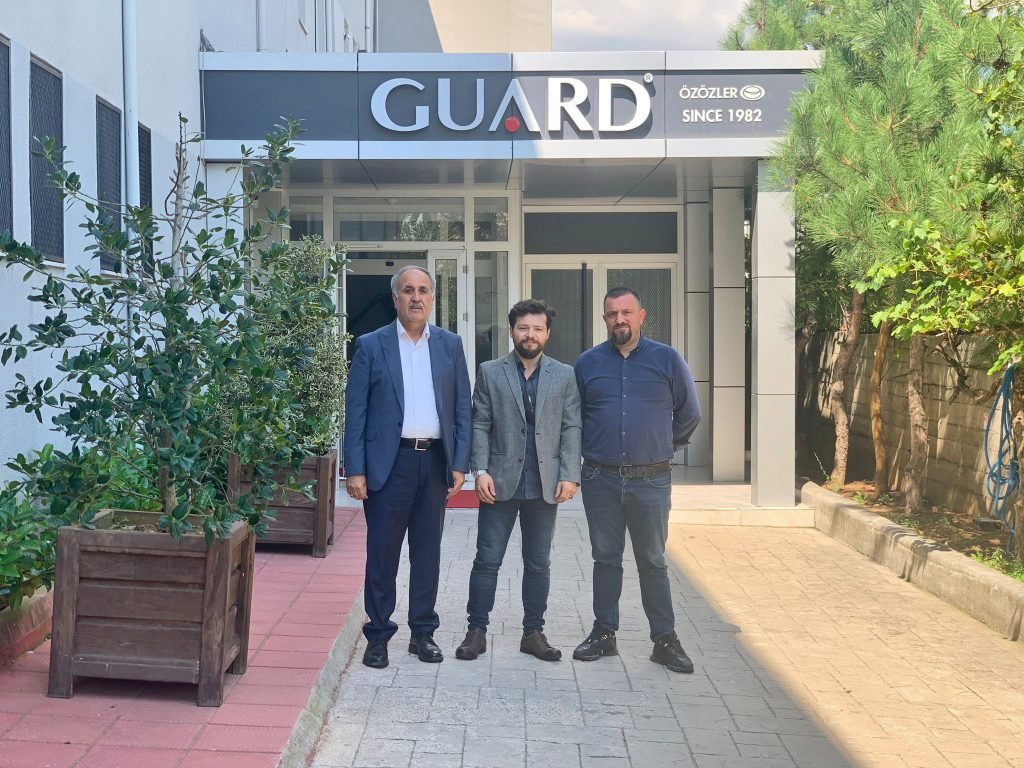 Can we get to know your company and your brand?
OZOZLER leather, as our brand GUARD, produces from 100% domestic leather. We have 10 stores of our own, with our retail wholesale and production experience. You can think of bags, wallets, belts and various leather accessories, sports bags, messenger bags, portfolio bags, handbags, backpacks, laptop bags, briefcases and women's bags. Since 1982, all Saddlery products that may come; combines traditional craftsmanship with today's technology and transforms it into modern products and presents it to its customers. It exhibits its products at over 7000 sales points in the world, especially in Istanbul, the place of establishment, and at 1442 sales points abroad.
What is your global and local wholesale-retail portfolio?
Since we know the customer portfolio in the wholesale and retail field, we have the opportunity to respond more quickly to the problems and expectations of both. We export about 98%. We work with many brands. Among them, there are textile chains, shoe chains, in addition to these, we can also prepare special collections, and we produce them with our own brand GUARD. We have close to 20,000 models. We produce an average of 3 to 5 models per week. Because we are aware that we do not actually produce leather bags, belts, wallets, we have to produce fashion, so we have to constantly update ourselves. That's what our customers expect. In other words, since customers' expectations always demand new functional and different designs, we can take quick action in this direction. Today's technology and customer expectations are constantly changing, so we design products that will highlight both design and functionality and make life easier for end users. We prepare pre-launch products with designers by offering alternatives according to the customer's collection and the brand's identity.
Since we have a large customer base both globally and locally, we have an incredible amount of data. We know very well what leather and which model the product will be presented, what expectations and demands the market customer has, whether it sells well or not. Which model is best sold in the Russian market, for example, in the pool formed in the middle in line with the demands of our customers? What is the customer's expectation? We guide our customers by finding answers to questions such as: The designers of some brands demand more fashion products with a focus on extreme design. Fashion is important, but the products must be commercially available so that they can earn money, and in this sense, we direct our customers, a collection emerges, our customers order those products and we prepare their production. We also produce OEM products, if the customer requests it, we produce with our own brand. Our customer portfolio is very large. We shape those orders in line with the demands of our customers.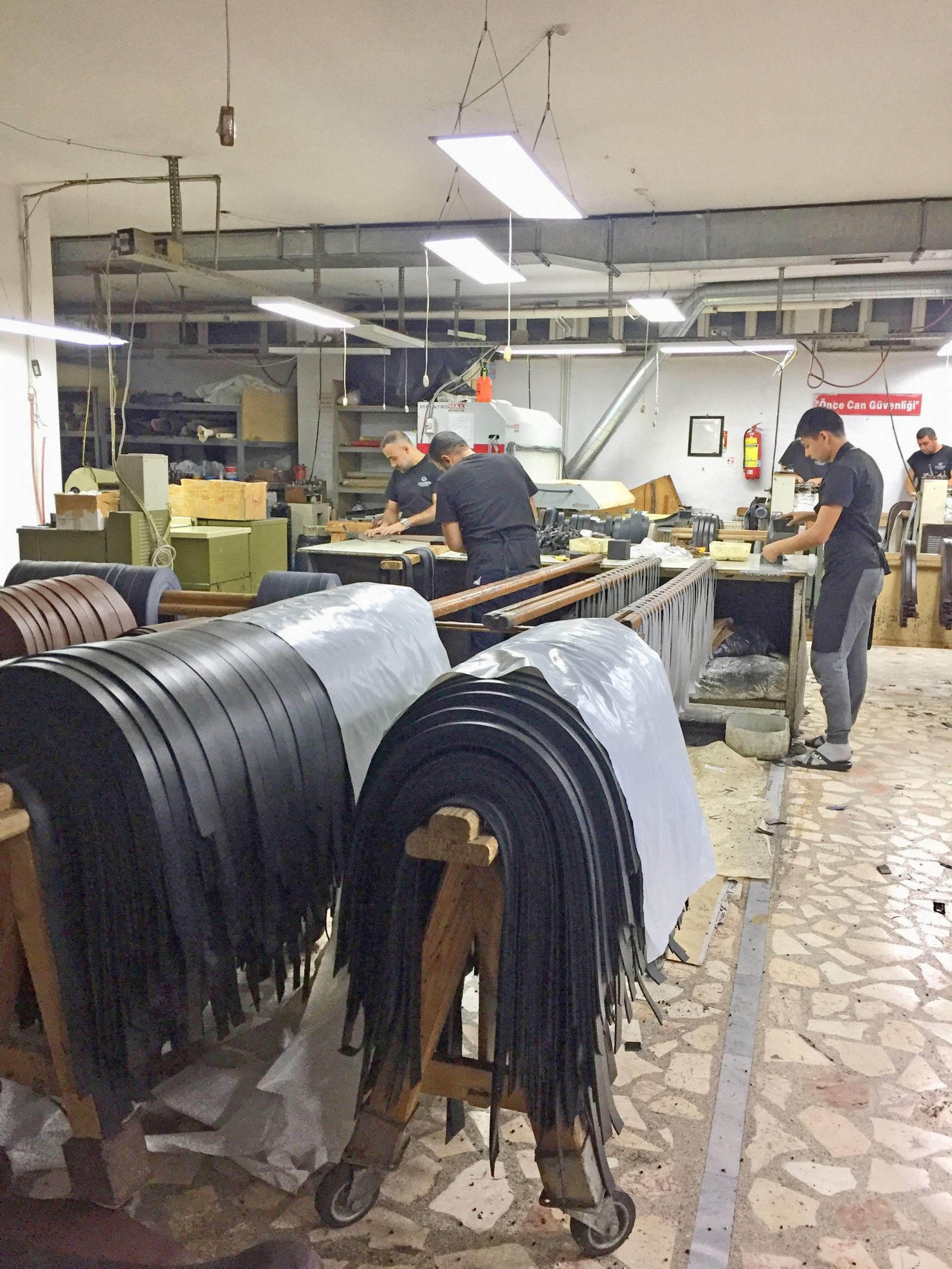 How do the processes of using your brand or coming out with your own brand work in your customer portfolio?
We sell products with our brand or if the customer has a registered trademark of his own, he shares that registration document with us. We analyze the customer identity, examine the customer target market and collections, and create a collection integrity according to the customer identity. When he wants to make production for the brand registered in his name, we have product order numbers and if it meets the minimum order quantity, we carry out the production with its own brand, starting from scratch, with the finished product quality controls and packaging from the packaging to the barcode, ready for sale.
Does the GUARD brand also produce shoes as a set apart from bag, belt and wallet models?
Our customer base is saddlery products. We can produce everything in terms of Wallets, Belts, Bags, Accessories, Phone cases, Mouse pads, Keychains, accessories. In this sense, we produce completely in line with the customer's demand.
Shoe-Belt-Wallet is a set. Do you know how to present this set?
Our biggest advantage is that you have touched on the right point. For example, if the biggest problem of our industry is a textile company, he buys a wallet from a different place, buys a belt from another place, buys a bag from a different place. Our business is actually fashion. Since we produce fashion, the leather quality of the place where he buys the belt is different, the workmanship quality is different, the workmanship quality of the place where he buys the wallet is different, the leather quality is also different in the bag, unfortunately, there is no chance of achieving integrity in that collection when he procures all of them from different places. Let's say it has achieved the quality of leather, it is impossible for it to achieve the same quality of workmanship. Plus leather is not like textiles, from each boiler to boiler the color tone differs, the quality also differs, the workmanship is different. It is not possible to ensure the integrity of the collection with the products supplied from different places. This is our biggest advantage, to ensure integrity, because we can produce all Saddlery products from a single source, brands generally prefer us. We have domestic and foreign customers with whom we have been working for 40 years. We produce many brands. From suits to sportswear, from women's clothing to men's clothing, we also produce many well-known brands.
What kind of problems does the tanned leather you supply in Turkey cause?
There is something like this, in fact, after the last economic situation, our raw material expenses are based on foreign currency, and it has become very difficult to sell products in Turkey due to economic conditions. We have to calculate our costs in foreign currency, but when we sell, we sell them in Turkish lira, which means we have to keep our costs up to date due to the exchange rate difference. In other words, you can't buy the raw material we bought for the same price for the second time, even if you sell it in foreign currency, the average price of all raw materials has increased over the last year, whether on a foreign currency basis. In this, there is a rapid price increase for every product from paper to metal accessories, from leather to intermediate material, to lining. In other words, even if you export, you lose a lot when you do not follow the variables closely. You may be making a loss while you think you have made a profit until you receive an order and produce it. There is a global problem in supplying materials, while the leather is tanned, many chemicals are coming from abroad. After the pandemic, the supply chain was seriously damaged and it does not seem like it will recover in a short time. That's why the supply chain has been badly affected, at the same time, the lack of timely arrival of leather chemicals in Turkey affects our deadlines. Let me explain, we order leather, the company we order has to combine the raw materials and tan, so tanning cannot be done when one is missing. This automatically affects our deadlines. While visiting our factory, I showed you that we are not a leather tanning company, but we have to keep an incredible leather stock. Why, because we have to respond quickly to our customers. This brings us financial costs. This is a global problem, not a local problem.
How did the supply chain affect your stock supply with the effect of the pandemic?
The main problem is that some chemical substances, materials or intermediate materials are not produced in Turkey, that is, we are dependent on foreign sources. Like the fact that the manufacturing costs are high here in Turkey, perhaps because the state does not provide enough support for the raw materials that can produce in Turkey, the companies in Italy, Germany, and Spain abroad sell those products to us when they don't want to sell them to us. One of the factors affecting leather costs is Gelatin There is a serious demand both domestically and abroad due to the production of halal gelatin, for example. Naturally, the tendency of leather makers to work that they consider more profitable, of course, prolongs the supply process of the market.
In terms of leather supply, tanneries said, "The leathers coming from abroad go abroad after being processed here, and they have difficulties in meeting the supply and demand". What would you like to say about this?
Many supplier manufacturers from European countries also buy leather seriously from Turkey, which affects the supply times and costs of the domestic market. In other words, they see that part as more profitable, in today's economic conditions, the maturity has disappeared, you have to buy most of the materials in cash, which of course has serious financing costs; For example, if you had a hundred customers, if you had to finance each of them with one million, this would be a serious figure. The suppliers and manufacturers had to go to the cash payment method. Each manufacturer can produce as much as its financial strength. This situation causes the market to shrink and you start to do business as much as your finances.
As a continuation of your answer, you said that it causes the market to shrink in terms of financing, of course, doesn't it give the impression that it is leaving natural leather and turning to plant-based leather?
Yes, there is this trend in Europe, so they want vegetable tanned products, of course, we make vegetable tanned products in Turkey on demand, but normal genuine leather has five times the labor cost. Because their manufacturing process is also very difficult. In line with the demands of our customers, we carry out the production from time to time in line with the demands.
There are few manufacturers in Turkey as metal accessories used in belts, wallets, that is on leather. We would like to get your opinions on this matter.
In the past, there were some problems in this regard, now it can be obtained from Turkey relatively better. After the pandemic, especially chemicals suitable for human health, certain rates of sensitive subjects, ninety percent of our customers' expectations are in this direction. In our production, we request test reports of each material in advance. The products we produce for both our own brand and our customer brands should not have chrome gold on the leather, or free nickel should be in the accessories, so we do not use any materials that are harmful to human health anymore, the sensitivity of people has increased much more after the pandemic. We do not compromise. We pay attention to the fact that all raw materials are certified, from the lining to the adhesive, from the metal accessories to the leather. China also produces quality products in metal accessories, but it also produces poor quality products. Also, the supply times are not as short in China as before, and the logistics costs have increased too much, and there are anti-danpiks applied by the state, is it bad to protect the local manufacturer, I think it is good, so the manufacturer started to have that experience and believed that he could sell that product and his It has been able to invest in it and strives to make better quality products. It's getting better every day, but of course there's a lot missing, so it's hard to find every accessory. Sometimes we also bear the cost of molding special accessories, we want them to try it, so we work like their R&D and sometimes we have to finance it. But somehow we have to do them in order to fulfill the demands.
Well, you talked about the Chinese market. In the period before the pandemic, the leather sector and accessories were in rematch. What is the situation after the pandemic?
Before the pandemic, yes, plant-based leather, not Natural leather, was in rematch, in terms of genuine leather, it was almost at the same level as our prices, but after the pandemic in Europe and America, no one wants to see the "made in china" text. Because it would be more accurate to say a defense brought by the pandemic, because people have a prejudice, they do not want to see made in china. Plus, the lead times are too long. In China, investment in technological products is now given more support. So again, the costs here can be more affordable, but when we look at the world in general, unfortunately, there is no country with cheaper labor costs than Turkey… It is very important that the drying times of the Mediterranean climate are very important. The reason why Italy's leather is so appreciated is that it has drying times that are tanned from the skin of animals bred in the Mediterranean climate. It has to be suitable for that climate. Our biggest advantage is that in Asia, India is tanning with very old methods, labor costs are also affordable there, they can provide advantages in multi-work products, they are very effective there, especially in Europe and England, but their leather quality is very poor, they generally produce from split leather. For example, they make bags from split leather, they go through a lot of processing, the end user cannot understand it, but we know that it is split leather, but we know that it is split leather, but it says leather bag, which means leather, in that sense, they are more effective in some markets. Apart from that, people do not prefer Far East products, especially after the pandemic, people with sensitivity, of course, the world population is very crowded, but there is usually such a prejudice.
What kind of policy do you follow as your company, which has the concept of "Sustainability" on the world agenda, especially after the pandemic?
Now, all of the leather we consume is processed in food, that is, we use the skins left over from the consumed food after the animals are used in food for the meat needs of humans. There is no animal specially bred to make leather bags, in fact, we are in a process that completes recycling in a way. Vegetable leathers are made from tree bark, although our products are not like this, it is a process that contributes to recycling. Of course, chemicals are included in it, but their chemicals are kept to a minimum. In artificial leather, the chemical is not used in our leathers, vegetable tanned leathers are especially already dyed with natural dyes, so in terms of sustainability, it will probably turn into vegetable tanning in the future. Such a transformation is a costly process, such a transformation will be better for everyone, better for the world, better for consumers. However, such a transformation seems to be realized in the long run in a short time.
After all, people consume meat, and they will continue to consume meat, so leather is a material that should be used constantly, can I get your opinion on this?
In other words, instead of leaving it to nature and waiting for it to rot, I think that creating more ergonomic and more aesthetic products with that leather is a contribution we can make to sustainability.
What kind of potential do you have as the Turkish Market?
The market has shrunk in the last two years due to economic conditions, because people's purchasing power has dropped so much that people's priorities have changed. In other words, people were more rightly concerned about their basic needs, and threw aesthetic perceptions into the background. For example, if he was going to buy a purse or wallet every two years, he extended it to five years and ten years. He rightfully dropped the demands. We hope that this process will be fixed soon. However, we cannot predict whether it will improve in the short term. We hope that we will definitely reach the potential of 2019 in the future. For example, before the pandemic, we had an incredible e-commerce potential, we do not have that e-commerce potential in Turkey at the moment, but we had to transfer our domestic e-commerce potential abroad because people's purchasing power has decreased. After the pandemic, we have to produce this product, we have to sell it, so we had to translate it abroad. In our country, most of the people are no longer able to buy wallet cards for 400 liras to 500 liras. Of course, people with a certain income level already prefer certain brands that I mentioned at the beginning of our talk. People who do small jobs in No name e-commerce have now become very difficult to do that job or they have changed their shell. While selling in Turkey, they have turned to Amozon or different foreign market places. But there are those who can manage this process, unfortunately, there are those who cannot, the process is also difficult for those businesses because they have a trade routine they are used to, it will take some time to get used to the dynamics other than that, so there is a blood loss in this process.
Do you have any thoughts about opening a store in Europe and America in the future?
There are countries with which we have a dealership agreement, of course, people want the brands they buy products to be more accessible while they trade, for example, they want a warehouse in America, they want to reach boutique customers faster to sell that product whenever they want. Of course, we have this kind of business models that want an interlocutor in a local location. We have different business models in different geographies, we have short, medium and long-term plans. There are also customers with chain stores among them. We support the production of the organizer who does this wholesale with productions that are suitable for the dynamics of that market. We prepare new collections for our business partners who suggest us the demanded products of their market and convey the demands of the potential customers there, and we try to create a value for them.