Anyone who's ever shopped for a new jacket, bag, or pair of shoes has probably come across both leather and suede options. But what's the difference between the two materials?
The first thing you notice is their unique look and feel. Leather has a smooth and shiny look and it feels stiff and thick. On the other hand, suede looks rough and velvety but softer and more flexible than leather.
Apart from their appearance, suede and leather also differ in terms of cost, durability, and the kind of items they are used for.
So, which one would you choose? Let's take a closer look at these qualities.
What is the difference between leather and suede?
Leather and suede differ in that leather has a smooth texture but feels tough while suede's surface is napped and feels matty and soft. This is because leather is made from the exterior side of the hide and suede is obtained from the underside or inner split of animal skin. As a result, leather tends to be more durable and more expensive than suede.
Qualities of Leather vs Suede
The following qualities highlight significant differences between the two materials.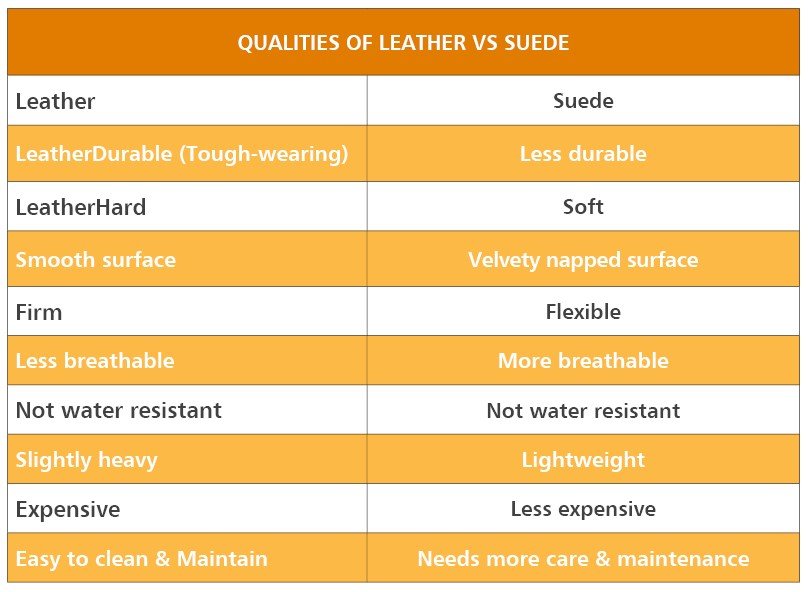 Sure, both leather and suede are made from animal skin. But that's pretty much where the similarities end.
See, leather is made from the outer layer of the skin which is strong and tough-wearing. Suede on the other hand is made from the inner layer, which is soft and delicate.
This difference in construction makes leather a lot more durable than suede. Thus, leather is ideal for making furniture that can last for years and years with proper care.
2. Flexibility
When it comes to flexibility, suede is more flexible because it is made from the underside of the skin, which is made up of loose collagen fibers.
This makes suede less stiff, more pliable, and generally softer than leather, which also contributes to its greater flexibility.
Leather on the other hand is not as flexible as suede because the fibers in the outer layer of skin from which it is obtained are arranged in a tighter and stronger weave.
3. Water resistance
Suede is much more susceptible to water damage than leather. In fact, suede is not intended to be exposed to water at all, as it will quickly become saturated and ruined.
Leather, on the other hand, can withstand some exposure to water without significant damage.
That said, even leather is not completely waterproof, and will eventually suffer damage if repeatedly exposed to water.
So if you know that you'll be in environments where you'll be regularly exposed to water (rain, snow, etc.), it's best to choose a material that will be more resistant to moisture such as synthetic leather material.
4. Lightweight
Suede material is much lighter than leather. For example, a typical suede jacket will weigh about half as much as a typical leather jacket.
The main reason suede is lighter than leather is that it is thinner since the underside of the skin is sanded down during production.
This makes suede clothing more breathable and appropriate for hot weather in the summer. Additionally, suede does not have a heavy topcoat like leather does, so it's less dense.
5. Cost
In general terms, leather is more expensive than suede.
The quality and durability of leather depend on how well it has been tanned, which involves a lengthy and expensive process.
Suede, on the other hand, is made by buffing the split to create a nap (or soft pile) that is not as labor intensive. As a result, suede is less durable than leather and therefore not as expensive.
However, in some instances, the price of leather and suede products may vary depending on a variety of factors, including the type of animal skin used, the tanning process, and the region where the materials are sourced.
6. Breathability
The breathability of the two materials depends on the type of leather or suede and how it is treated.
But, in general, suede is more breathable than leather as it allows air to pass through more easily.
This makes suede clothing like pants, shoes, and jackets a better option for warmer weather.
7. Ease of care and maintenance
Although leather is easier to maintain than suede, they both need proper care in order to protect them from damage.
For starters, both materials are porous so they need to be protected against spills since they are prone to staining.
In addition, they are not resistant to scratches but leather is less prone to damage since it can withstand more wear and tear. Suede on the other hand tends to scratch more easily due to its soft and unfinished surface.
Furthermore, suede needs special care when it comes to cleaning. This is because the napped surface tends to trap dirt and dust easily compared to the smooth surface of leather.
To clean the delicate suede surface, one needs a special suede cleaner since suede should not be exposed to excessive moisture. As for leather, you can use leather cleaner or simply wipe it down with a soft damp cloth and a mild soap like saddle or dove soap.
So, are suede and leather the same?
No, suede and leather are not the same. While suede is a type of leather, it's made from the underside of the animal skin and has a texture that feels velvety and softer than regular leather.
On the other hand, leather is made from the outer layer of the animal skin, so it's much thicker and harder than suede.
Suede is generally used for things like shoes and jackets where softness and flexibility are important qualities, while leather is used for belts, bags, and other items that need to be stronger.
In case you are still confused, here is a picture of my husband's boots that he got from Ethiopia. I find them fascinating because some parts of the boots are made from suede while other parts are made from leather.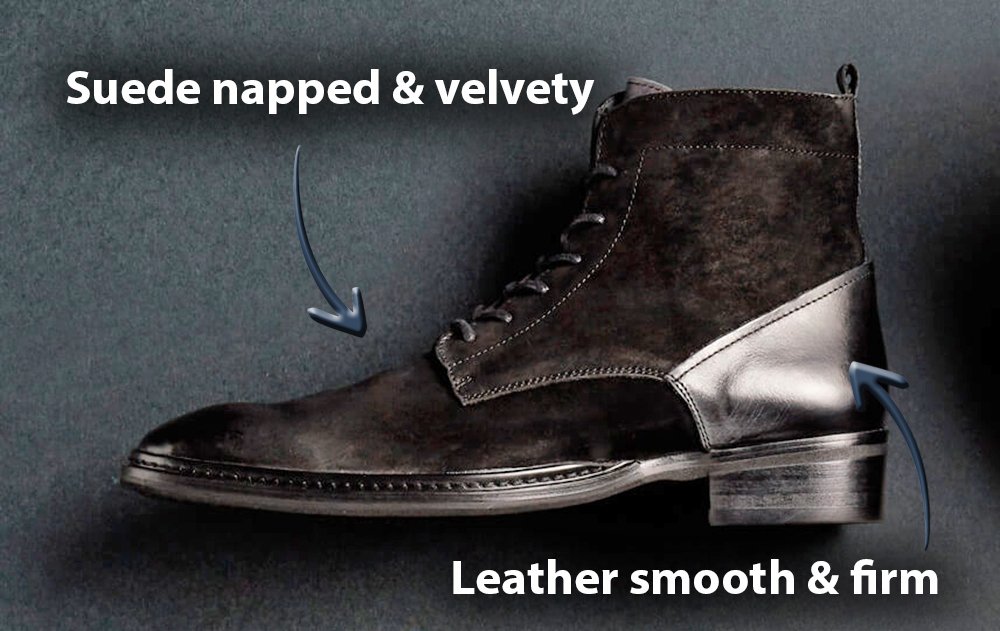 Conclusion
It is clear that there are significant differences between leather and suede in terms of durability, cost, flexibility, water resistance, weight, breathability, and ease of care and maintenance.
Suede is more flexible and lightweight than leather, making it a good choice for garments that need to move with the body. It also has better breathability than leather, which makes it a good option for warmer weather.
However, suede is not as durable as leather and is more susceptible to water damage.
Leather on the other hand is more durable but costs a little more than suede. It is less prone to scratches and scuff marks and easier to care for and maintain compared to suede.
So, which material is better? Ultimately, the best choice depends on your needs and preferences.