Just after fashion month in the physical world, Decentraland will host a four-day digital fashion week replete with virtual shows, stores and events. Here's what to know now.
Front rows and after parties are in, but tickets are out. Your digital outfit matters, but seasons aren't relevant. Welcome to fashion week in the metaverse.
Metaverse platform Decentraland is hosting its first Metaverse Fashion Week starting 24 March, with dozens of global brands and thousands of visitors able to virtually experience fashion shows, attend live music sessions at branded after parties, and buy and wear digital clothing directly from catwalk avatars. There will be showrooms, stores, talks and events during the four-day virtual event. Hugo (one part of the newly rebranded Hugo Boss), recently signed with MVFW partner Boson Protocol to enable the people to buy physical Hugo goods within the metaverse, including Metaverse Fashion Week, making it one of the first brands to announce participation. Organisers are hush on other brands but say household names, luxury and emerging brands and digital-first creators are involved. Since the project was announced in late December, more brands have expressed interest than Decentraland has capacity to host.
Decentraland's MVFW offers some key insights into how the fashion metaverse is playing out. Set up to be the virtual home of global fashion weeks, this inaugural event offers brands an environment to trial the technology of a 3D virtual world platform in a relatively low-risk manner. Decentraland is notable as one of the few prominent open metaverse platforms, in addition to the Sandbox, and a number of investors have already bought plots of land in anticipation of building shopping-centric areas.
Virtual avatars will be walking the runways, some of which will be shoppable and wearable, meaning people can wear the digital items in Decentraland, and some collections will have a physical twin. For example, a person visiting MVFW might buy a digital item via an NFT and wear it instantly on their avatar; they can choose to sell that item or keep it and redeem the NFT to also receive the brand's physical complement. (Not all brands will have a physical component.) While visiting a virtual store, they might scan a QR code to see a realistic-looking 3D render of the item pop up in their physical space at home, via a smartphone camera.
Anyone can attend MVFW, but to buy a wearable, they'll need an Ethereum wallet. Most events will be open-access, but some brands have enquired about VIP access or front-row seats, which could be used to reward current NFT owners with special access or free items. Beyond purchase capabilities, the look and feel matters — what makes fashion shows special in person is the set design, soundtrack and overall atmosphere. UNXD, a luxury NFT marketplace that worked with Dolce & Gabbana on its NFTs, is helping curate the programming.
"We want to help the onboarding process and push creativity and show everyone what is possible," says Sam Hamilton, creative director at Decentraland Foundation, the nonprofit that oversees the 3D virtual world platform. "We do this to show the community and other brands, 'Hey, Decentraland is a place for shopping, everyone is wearing cool clothes and brands can release on the platform'. It's a way of bringing more people to the platform and making it more compelling for users."
People can explore via customisable avatars and connect their crypto wallet to buy items, including digital clothes. Similar to competitor The Sandbox, people can buy virtual plots of land where they can build or rent out spaces that enable many of the same functions as the physical world, including concerts, parties and shopping, with items sold as NFTs.
The event hopes to serve as a more official virtual fashion week destination compared to the types of one-off virtual that have served as an alternative or supplement to a real life event, for the past two years. Previous digital fashion shows include the all-digital Helsinki Fashion Week and the virtual reality fashion event "Fabric of Reality". Multiple brands have opted for digital-only shows and presentations, including Balenciaga's "Afterworld" and Hanifa's all-digital runway, all in 2020.
Digital fashion and virtual spaces have since evolved from niche to mainstream, and brands are taking virtual events like these — and their audiences — more seriously. Brands such as Gucci and Ralph Lauren have opened virtual pop-ups on metaverse platforms Roblox and Zepeto; and Nike and Vans, among others, have opened permanent spaces in Roblox. "We have gone from brands saying eight months ago, 'What is it?' to now, when brands have to have it, and it's become an essential part of a luxury brand strategy," says Justin Banon, CEO and co-founder of Boson Protocol, an MVFW partner, which offers technology that enables brands to link physical items to NFT sales. "Brands have to have a metaverse strategy. It's like a switch has been switched."
This is not Decentraland's first big event. In October, a four-day music festival with acts including Deadmaus and Autograf, among 80 other artists, attracted 40,000 people. Since then, there are up to 12 Decentraland events daily, with daily attendance records regardless of events, Hamilton says. In December, the platform reached 500,000 monthly active users. "We found that we led by example, and many people started bringing their own communities and musicians," he says. This event was also a way for artists to attract a new demographic, says Andrew Kiguel, CEO of Tokens.com and chairman of Metaverse Group. "This started getting the wheels turning for fashion brands, because the people who have these avatars are conscientious of skins. If you were going to Coachella, you care about what you're wearing. People are willing to invest money if they want to look stylish."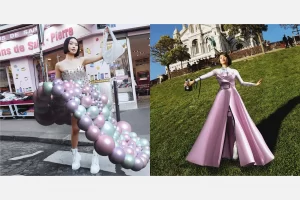 What to expect at MVFW fashion week
The organisers are helping brands create digital fashion that is appropriate for the Decentraland look and feel by connecting them with tech partners, including Boson Protocol (which has a virtual store on its owned plots of land); and Threedium, which turns physical products into avatar-ready wearables, 3D garments and augmented reality experiences. Threedium's services range from $2,000 to $100,000.
Expect both a combination of fantastical and practical digital items for sale. Those with a digital twin might resemble more a "cousin", simply because the look and feel of Decentraland is not photorealistic. "Replicating what is happening in real life for fashion shows might not be the best option," says Clément Roumegous, head of new business and communication at luxury fashion consultancy Al Dente, which has worked with LVMH and Versace. "Something new must come out. There is definitely a wonderful opportunity to extend the brand universe and its cultural aura with something never seen before."
Mainy of the shops will live in a permanent "fashion district" that is currently being built within Decentraland. Digital fashion brand Republique partnered with French accessories retailer Monnier Frères, where it already sells digital clothes, on a store that will include digital items from around 15 other brands. Republique's team of digital designers are helping a range of brands digitise their items, says Republique founder James Gaubert. Inbound interest in this capability has been so great, he says, that the brand has had to actively turn down some potential clients. While Republique's skins originally sold for $10 to $15 (not as NFTs), the brand will be selling NFTs at MVFW, and because of the one-of-one capabilities, prices will rise to about $1,500.
The risks and challenges
In two years, digital fashion shows have gone from niche concept to hot destination. As brands cancel physical shows (again) and luxury fashion NFTs are commanding millions of dollars, there's a lot riding on this moment.
Because this is a relatively new platform, and navigating the space will be a new behaviour for many visitors and brands, some are bracing for the occasional hiccup. For example, on some computers, the Decentraland experience might not run smoothly. "I fear that people will go on their work laptop and not have a great experience, and then be perhaps put off," Rebublique's Gaubert says. "People need to persevere. This will hopefully be the first of many of these."
Gaubert also warns brands not to rush to participate in metaverse experiences. "The fact that Hugo Boss, Balenciaga and Burberry are jumping on board is fantastic for raising awareness, but there is still a bit of a gap around education and adoption."
Even the event's tech partners warn brands not to just "close your eyes and jump in", as Threedium's CEO Mike Charalambous puts it. "Brands need a long-term strategy, even if they are doing this with a short-term goal. Typically for brands that have zero metaverse experiences or metaverse DNA, we suggest they start small and do a couple wearables in Decentraland to see the process and how they look, because it's not exactly a super hyper-photorealistic design. We don't want them to create anything that could deteriorate the brand equity, and there's lots of sensitive stuff to worry about."
There's also a concern that smaller brands, with smaller budgets than the big houses, might not have the resources or incentives to participate. "I am always supportive of innovation and believe strongly in the promise of digital experiences to be democratic, however I will be watching to see how democratic it is," says Liam Osbourne, global client partner of Flux, the fashion division at digital production company Media Monks. For example he says, "Does it spotlight and highlight emerging talent or is it only dominated by the big players? Who and how are the models selected? If it is merely replicating what we have going on in the real world, for me, it's of less interest."
Digital front rows and gated after-parties, he adds, could be replicating barriers to entry that mimic the physical world. "What are the rules for access that are not the traditional levers of wealth or proximity to power would be would be great to see. Everyone is just talking about the massive value of digital assets, and it's just operating on a sphere that is hard for your average person to engage with."
While some tech partners shared a few names of brands off the record, so far, brands are hesitant to formally announce participation. Al Dente is not aware of any client brands that have confirmed participation, says Roumegous. "However, we will be very attentive to brand initiatives during this event. It will be very interesting to see what designers and creative minds of the fashion industry will take part."