Turkey has raised a target in gelatin and collagen. Gelner Gıda, which was established in the Balıkesir district of Turkey during the pandemic period, announced that it will increase its production from 3 thousand tons in the first half of 2022 to 4 thousand tons at the end of the year, with exports to Europe and the USA in a short time.
Burak Uyguner, Chairman of the Board of Gelner Gıda, said, "As Gelner, we export 50 percent of our production. One year after its establishment, we started to export to the USA with high added value. As of August, we will start mass collagen production and focus on exports."
The growth in the Turkish gelatin and collagen sector continues at full speed. Burak Uyguner, who stated that they obtained leather, which is the main raw material of gelatin and collagen, from Uyguner Deri, companies that have been operating for 87 years, emphasized that they will start collagen export in August as Gelner Gıda company. In addition, Uyguner stated that they aim to grow over 100 percent with the investments to be made within 2 years.
Over 100 Percent Growth Targets
Explaining their targets for the next period, Uyguner said, "As Gelner, we aim to increase our production to 9 thousand tons in 2 years. We will diversify our 9 thousand-ton production target as halal powder gelatin, halal leaf gelatin and collagen. We are currently producing 3,000 tons. Our goal is to grow over 100 percent with investments to be made in 2 years. We will increase our capital with the money earned. The market share of collagen and gelatin in the world is 4 billion dollars. Collagen is 1.5 times more value-added than gelatin. Turkey is very new in the collagen market. We will add strength to Turkey's collagen market with the production we will carry out. We export our products in leaf gelatin to all of Europe. We work with the largest grocery chain in France. We also export to the United States," he said.
90 Percent Protein In Collagen
Noting that collagen has a protein value of 90 percent in 100 grams, Uyguner underlined that the quality of collagen can be understood from the absence of odor and its solubility in water. Uyguner says, "Jelap Leaf Gelatin is equal to 160 grams of meat. Glycine and proline amino acids, which are very valuable in terms of nutrition, are between 10 and 20 times the concentration found in other proteins in Jelyap Leaf Gelatin. To get the same amount of glycine found in 10 grams of Jellyap Leaf Gelatin, it is necessary to consume about 2.8 liters of milk or 160 grams of meat." expressed as.
He did not sell 80 Dollar Leather but sended 18 containers of Gelatin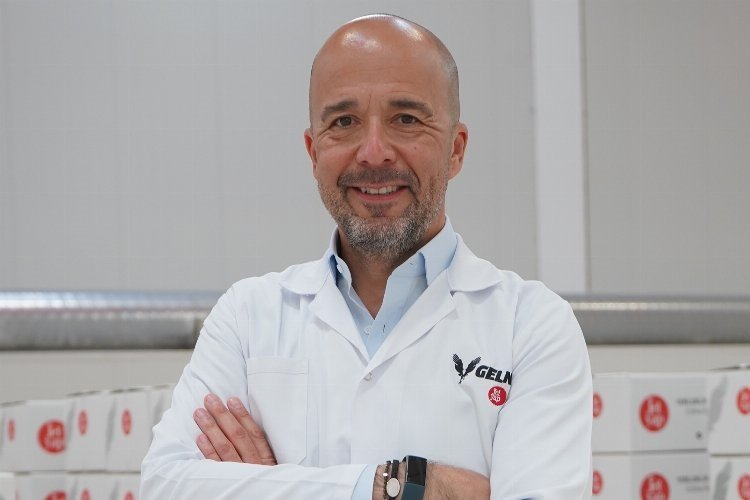 Burak Uyguner, Chairman of the Board of Gelner Gıda, said that they will increase their production, which is around 3 thousand tons at the moment, to 9 thousand tons in two years.
Uyguner said, "As Gelner, we export 50 percent of our production. A year after its establishment, we started to export high value-added exports to the United States. We are a leather company of 80 years. We could not export 80 dollars to the USA, but when we opened this factory, we sent 18 containers of products. It was needed in the market at that time."