DIO GOMEZ with its new trends in leather clothing
İbrahim Aydoğan, one of the partners of Dio Gomez, one of the Turkish leather apparel brands: "We are producing both with our own brand and with the labels of companies in Istanbul Zeytinburnu."
İbrahim Aydoğan, one of the partners of Dio Gomez, one of the Turkish leather apparel brands: "We are producing both with our own brand and with the labels of companies in Istanbul Zeytinburnu."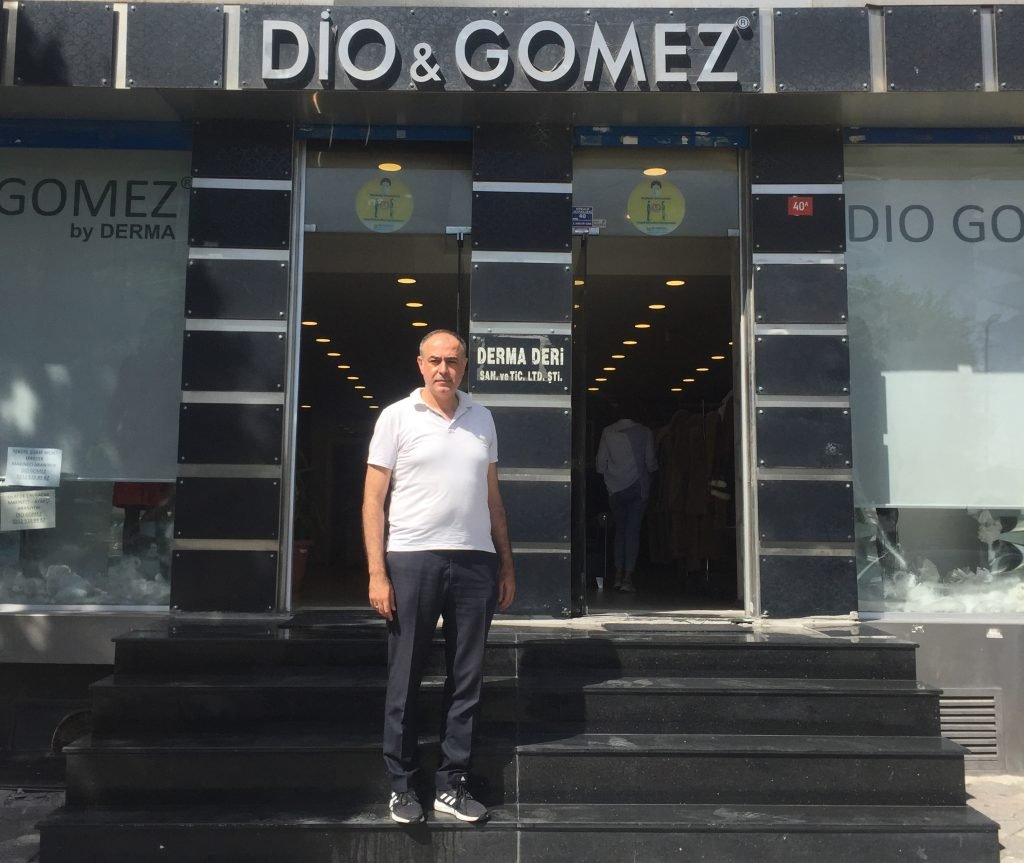 Mr. Ibrahim, we would like to get to know you first.
As Dio Gomez-By derma, one of the partners of Derma leather, we continue our domestic and foreign store sales activities.
What are we producing? We manufacture 100% local genuine leather jackets for men and women, worn at -40 and -10 -15 degrees. How do we do it? We make double-sided 200gr products, and we manufacture both women's and men's products from woolen lambskin for hot countries and cold climates. In general, we sell with our own brand, but we also produce with the companies' own labels.
How is the leather garment industry in general?
Our industry has been hit hard by the crises, for example, after the plane crisis in 2015 and before that, it was hit hard by the devaluation in Russia. We are currently trying to sell products to the whole world. Whether it is the American market, the European market, China, the Far East market, the Arab countries market, plus there is a tourism market. Especially in the coastal regions of Turkey, as well as in Egypt, Tunisia, Dubai tourism regions, the product is also sold. We produce a luxury product. The more you do the New Market diversification, the better your job will be. For example, it is also sold in the domestic market, but there may be a price problem due to the current exchange rates.
Is the domestic market returning to Vegetal leather? What do you think the effects of this will be?
There is a return as you say in Europe rather than the domestic market, but studies are being carried out on chrome-free leather. Of course, this is affecting the Turkish domestic market and there is a transition based on purchasing power. Two types of leather are sold in the domestic market. For example, Derimod and Desa are mentioned in the domestic market of Turkey, other companies do not enter, plus there are shoe companies. The domestic market generally returns as two different types, the first as boutiques and the second as chain stores. Store chains focus on price, boutiques focus on quality.
Many companies were affected by the war in the Russian market, its door with Europe was closed, but the leather industry with strong relations for Turkey, in this case, is Russia an open market now?
Yes, Russia is open market, also Russia is like our domestic market. Currently, there is also ruble trade with Russia. Especially through banks. No matter how much the crisis is, ultimately the main market is a market we know. It is the market we have been working on for 30 years on average. It never ends unless it's a big event.
There is a concept called "sustainability" on the world agenda. What is your perspective on sustainability as the DIO GOMEZ brand?
Sustainability is short-term goals, medium-term goals, long-term goals, sustainability has a macro dimension and a micro dimension. I will make a global comment with the macro dimension, which I will comment on our company with its micro dimension. First of all, we try to diversify the market as much as possible in order to ensure our sustainability in the micro dimension. We are trying to maintain the existing, plus we are trying to enter new markets. Everywhere we go through the fairs, we say that zero is greater than zero at the moment, plus when we get one, it will give blessings. Let me tell you the macro dimension of sustainability, it has three pillars, the first is ecology, environmental science, the second is the economy, and the third is the social dimension. If you cannot balance the society sociologically, for example, the balance in Turkey has been disturbed due to immigration. This is the fact that we have to maintain this balance all the time.
What would you like to say about the anxiety of finding a job and self-development after the leather sector vocational schools?
Vocational high schools are of great importance in our country and they also contribute to the sector. First of all, everyone should be a university graduate, but there is also a need for people to be employed, so we need to encourage especially vocational high schools. Everyone wants my child to be a doctor or a professor, but every child needs to be shaped according to her abilities. There is a saying in Turkish geography (Anatolia) "if you don't know anything, do what successful people do". Finland is the number one country in education in the world, is it similar to our country? Number two South Korea, three Taiwan success rate countries. In Finland, formal education is given two days a week, other days, trainings are provided for how to survive with nature when the person is alone in life. They teach agriculture, they teach fishing, they teach construction, they get the child accustomed to life from scratch. That is the correct one. But our level of culture is not suitable for her. But our level of culture is not suitable for her. The two South Koreas are somewhat similar to us now, but the country, which was in misery forty years ago, has now developed itself and launched the Samsung brand in the world, and they can make standard goods. Plus, they increased their per capita income to the level of 30,000 dollars, that is, they formed a social union. They have developed together socially. They did this with the 4×4 system, and when you search, people start education at the age of 4. She starts at least one foreign language education, is engaged in a sport, plays a musical instrument and is accustomed to reading books. This kid has no way of failing because working there is like worship.
Is the leather apparel industry mainly contracted for the domestic market or is it a sector that protects its brand?
You asked a general question, I'll answer, of course, this depends on economic power. For example, you can work on products for brands such as Boyner or Network, and you can also produce products for your own brand. As a result, continuity in trade is essential. If you have the power, you can be alone with your own brand. This is a completely capital-based situation.
The leather industry has a long history, especially as the Turkish leather industry. So, in the context of tanning, can you easily supply the kind of leather you want to the apparel industry?
First of all, Turkey is one of the leading countries in the world that makes leather tanning, but we do not know our own worth. As the Turkish leather industry, this craft, which is the ancestral profession, has been industrialized with Turkish culture, and there has been leather tanning in Turkey for 670 years since 1453. Crises come, crises go, it doesn't matter, leather tanning will never end. Are there any problems in supply? There were definitely problems at the supply point after this pandemic period. It may have happened in the factories, especially in the chemical dimension, in the raw material dimension, but we do not experience this because we do not have any problems because we make a wide variety, but there is a break in the supply chain, whether it is raw material, there are accessories in the same way.
As Dio Gomez, how do you evaluate the potential to produce your own accessories?
In the context of accessories, we prefer to work primarily with domestic companies. We support domestic production, of course, we also buy from outside. But first of all, as our company principle, we are in favor of domestic production, whether it is accessories or tanneries, especially from companies in Turkey.
Do you plan to open a store in different countries besides your own store in Turkey?
Currently, we produce and sell wholesale under our own brand in Zeytinburnu, Turkey. We supply products to chain stores in the world, and we try to supply products to boutique stores. We were going to have a formation to operate in Russia, we postponed the date because of the war.
Fur is generally used in Russia, what kind of models dominate?
Cold climate as climate, people see it as a mandatory need for protection. Especially lambskin, which we call lamb's wool, consists of these products in general. There are also products called precious fur. In general, woolen lambskin is dominant in northern countries. Leather is a breathing material, that is, as it is worn, it gives energy to people and we warm up with this energy.
Generally, fiber and wadding are used in leather clothing, they are not used in some models. Europe prefers these models more. What would you like to say?
Country clothing may differ, it is shaped according to trends.
Finally, what would you like to say in the context of leather industry and apparel?
The leather industry has existed since the first human history and will continue to exist. In the context of leather apparel, we need to be shaped according to customer demands with strong designs.