"Application of Leather Parcelling to Mooring Ropes of All Marine Vessels"
No matter how advanced technology becomes, humans have always utilized leather craftsmanship due to its historical roots, and continue to do so. While leather has been historically used for clothing, shelter, protection, and other purposes, its applications have evolved and adapted to various industries in modern times. One of these industries is the Maritime Sector. In order to prevent the continuous wear and dangerous conditions of ropes used for mooring ships to the docks, sailors of the past sought solutions using the materials available to them. It is important to note that there is no single universal model for mooring and dock ropes applicable to all marine vessels, considering the diverse usage areas across different geographic locations.
Murat GÜNÜ, a resident of Turkey, has adapted a historical application in the field of maritime called "Application of Leather Parcelling to Mooring Ropes" in today's maritime industry.
Firstly, we would like to get to know you, Mr. Murat.
My name is Murat GÜNÜ, and I am 47 years old. I work as a Saddler. Since my father was also a Saddler, I started my career in this profession under his expertise at the age of 7, carrying on the tradition of leatherworking. As a very ancient craft, I strive to keep the art of leatherworking alive. While pursuing my secondary education through distance learning, I entered university and graduated from, Sociology. After receiving my degree, I spent four years working on reviving a leatherworking practice inspired by our history, which had existed in the maritime field but had gradually disappeared. Finally, I initiated efforts to bring this application to life.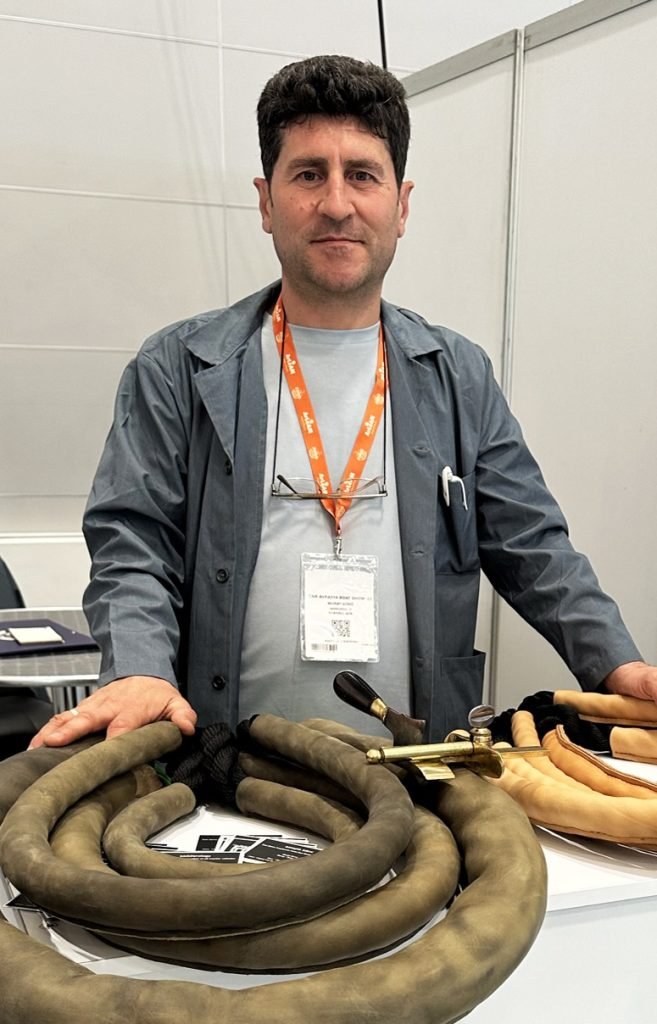 Mr. Murat, which types of marine vessels it is applicable to "Application of Parcelling Mooring Ropes"?
First of all "Parcelling" means wrapping. Every ship needs to be connected to a dock or pier in some way, and ropes need to be used for this purpose. This application is designed to be used on the rope eyes of ships for securing them to mooring bitts found in ports and docks. Therefore, I apply parcelling to the eyes of the ropes..
The mooring of marine vessels is a crucial skill that every boat owner or captain should possess. Considering that most of a boat's life is spent moored to a dock, especially for cargo ships, the importance of this topic becomes evident, regardless of how much a vessel travels. When we observe marine vessels in the world's seas, we know that many of them have multiple, sometimes five, six, or even more mooring ropes.
Currently, fire hoses and textile products are commonly used for wrapping/parcelling, but they lack sufficient strength and durability. Due to their lack of sustainability, ship owners replace them every 3 years instead of 4. This incurs significant costs from an economic standpoint. However, by utilizing the "Application of Leather Parcelling to Mooring Ropes" the risk of rope breakage can be eliminated for many years, offering a long-lasting solution.
In fact you are talking about Saddlery. When we talk about the leather crafting we actually refer to the production of leather goods, including accessories such as bags, belts, wallets, and watch straps etc. How can we define the profession of Saddlery in the context of dying professions today?
Saddlery can be defined as a craftsmanship that specializes in creating items like saddles, bridles, and reins, primarily used in horse riding. As a master Saddler myself, I am combining this traditional craft with the field of maritime by reviving the lost practice of parcelling in the maritime industry, aiming to preserve our historical heritage.
In Turkish/Ottoman maritime history, figures like Çaka Bey, Piri Reis, and Oruç Reis used this practice during periods when seafaring was at its peak. However, over time, the artisans who practiced this technique dwindled, and it was forgotten without being fully transmitted to future generations. Our goal is to reintroduce this aspect of our Turkish maritime heritage and make it accessible to both Turkish and global maritime industries. By doing so, we can eliminate the issue of wear and tear on the body of mooring ropes, which are high-cost items. This revival of the practice would lead to significant cost savings in terms of benefits and costs.
Therefore, we are working to preserve the craft of Saddlery in order to meet the requirements of modern times and ensure its continuity in the face of changing needs and conditions.
How does it feel for you to bring the leather application, which is a historical practice, back to the forefront in the field of maritime globally?
While it saddens me to see such a gap in Turkey and globally, reviving this forgotten craft that was once employed throughout history to address that gap brings me great joy.
Applying parcelling to the body of mooring ropes will have numerous benefits for vessels navigating in Turkish and international waters. Firstly, it will extend the lifespan of the ropes, reducing costs. It will also reduce the load on the ropes, enhancing the safety of mooring maneuvers and protecting personnel and equipment at port facilities. Additionally, this application will add aesthetic value to the ropes.
As you may know, the mooring of maritime vessels to the dock is of crucial importance for the stability and safety of the vessels. In order for the mooring connection (Round Turn) to be secure, it is essential that the ropes are strong and remain in good condition. Moreover, it is necessary to establish a specific legal status and increase the sensitivity of this matter by recognizing the mooring elements of the vessels as an important aspect of the mooring process.
Have you made any applications to the relevant authorities in Turkey for the implementation?
Yes, we have made applications to the relevant authorities in Turkey for the implementation. We have filed patent applications for the "Leather Parcelling on mooring ropes" and we have also obtained the certificate of "Intangible Cultural Heritage Bearer" from the Turkish Ministry of Culture for the craft of "Leather Parcelling". Additionally, we have requested the Ministry to include the profession of "Leather Parcelling on mooring ropes" in the list of recognized professions in Turkey and to notify UNESCO about this profession in order to establish a dedicated category for it.
What would you like to say to the leather industry in terms of education?
 It is crucial for the profession of Saddlery, which we consider as one of the dying professions, to be included in the vocational curriculum, as it falls under the category of Leather Goods Manufacturing, including Bag Making, Belt Making, Wallet Making, and Watch Strap Making. Even my own mastery certificate is issued under the category of Leather Goods Manufacturing, not Saddlery. Unlike in Turkey, there are universities in countries like England dedicated to this field, rather than just vocational high schools.
I hope that the competent authorities in Turkey will include the profession of Saddlery, which belongs to the dying professions category, in the curriculum as soon as possible. I am even ready to become an instructor in this field. The younger generation trained in this field will contribute to the preservation of this profession, and through our efforts, not only Turkish vessels but also vessels worldwide will benefit from this practice. It is important to note that this initiative will bring significant added value to our country.
Mr. Murat, thank you very much for the information and contributions you have provided during this interview. We wish you continued success.